Westrick Music Academy's Conducting Fellows represent some of the finest young music educators in the region. Fellows are selected by a competitive application process from upper class bachelors students, masters students, and young professionals.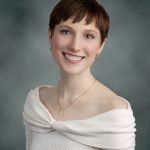 Maddie Meier, Concert Choir and Ensemble Conducting Fellow
Maddie Meier, an internationally-trained soprano, conductor and teacher from St. Louis, Missouri, received her Bachelor of Music in Vocal Performance and Bachelor of Arts in German with a minor in French from Montclair State University. She graduated in 2020, summa cum laude. During her time at Montclair, she received a full-ride scholarship to study for a year at the Kunstuniversität Graz in Austria. She has done solo voice work with different Baroque Chamber Ensembles in and outside of the United States, and has sung a variety of different operatic and musical theater roles, in addition to concert works. Recently, she has performed as a soprano soloist for Mendelssohn's A Midsummer Night's Dream with the Princeton Symphony Orchestra and the American Repertory Ballet Theater. She has also performed as the soprano soloist for Handel's Messiah, in addition to performing as the soprano soloist for Haydn's Creation with the South Orange Symphony Orchestra. Maddie Meier was a finalist in The Kentucky Bach Choir's Audrey Rooney Vocal Bach Competition in 2021. As a conductor, Ms. Meier has been accepted as a Conducting Fellow at various conducting institutes across the country. She is looking forward to working as a Conducting Fellow with the Princeton Girlchoir this coming Fall (2022), in addition to continuing her work as a Conducting Fellow with The Adult Rise Up Community Chorus. Ms. Meier will also be starting this Fall as the Choral Music Director at Neptune Township High School, where she will direct two auditioned choirs and direct the school musicals. She currently resides in Princeton, New Jersey, where she actively performs and runs her own private voice, violin, piano and language studio (Maddie Meier Music Studio, LLC). In her spare time, Maddie is a voracious reader, who loves to paint, hike, cook and garden. 
Zoe Beaton, Cantores Conducting Fellow

Zoe Beaton is a current student at Westminster Choir College majoring in Music Education and studying voice as her primary instrument. Her involvement and dedication to music, beginning in elementary school music class, as well as her love of choir evolved into a deep and prominent passion as she, along with her musicianship, matured. She believes that her interest in Music Education stems from growing up in the chorally rich state of Florida, in which her musicianship and artistry was developed and encouraged. Now as she enters her Junior year of formal education, she is focused on preparation for graduate school in which she plans to achieve a masters in Choral Conducting. Zoe will spend this academic school year gathering valuable music experiences performing as a Choral Scholar at St. Dominics and participating in a choral apprenticeship as a Conducting Fellow for Westrick Music Academy. Additionally, Zoe intends on applying for Rider University's Undergraduate Research Scholarship Awards (URSA) creating a research paper and lecture on Negro Spirituals. This research project will be presenting and discussing the origins of Negro spirituals, its context and place in the choral music world, as well as appropriately performing and teaching of Negro spiritual music. Along with her musical studies, Zoe is a student assistant working in circulation at Talbott library, Westminster's historic music library. When she is not busy progressing her music career, Zoe spends her down time engaging in the yarn arts, such as knitting, and reading fiction.
Megan Sholette, Concert Choir Conducting Fellow in 2022/ Treble Choir and Young Men's Ensemble Conducting Fellow in 2023
Megan is a current senior attending The College of New Jersey who is majoring in Music Education with a concentration in voice. Megan has been involved in choir, piano, dance, and musical theatre from a young age. Her passion for music education stemmed from her high school choir teacher who inspired her to pursue her dream of being a teacher. Megan participated in select choirs all throughout high school and was selected as a member of All South Jersey Chorus in 2019. Megan continues to be very active in her college music program as a member of TCNJ's only competitive acapella group, The Trentones, and a member of the National Association for Music Educators. In addition, Megan is a dedicated member of the International Music Fraternity for Women, Sigma Alpha Iota, where she serves on the Executive Board as Editor and as Secretary for the American Choral Directors Association. Last spring, Megan had the amazing opportunity to strengthen her conducting skills by participating in an Independent Study for Choral Conducting under the direction of Dr. John Leonard. As part of this study, Megan led her honors choral ensemble, TCNJ Chorale, in warm-ups and sectional rehearsals and conducted a piece for the spring concert. This experience sparked a passion for choral conducting and she is honored to be a Conducting Fellow for Westrick Music Academy this year! Megan is currently a general music student teacher at Valley Elementary School and will move to Bensalem High School in late October to finish out the semester working with the choirs, piano classes, and theory classes. Megan hopes to continue to spread her love of music with her students and inspire them to pursue music in the future as well. In her down time, she enjoys dancing, watching musicals, playing ukulele, and reading.