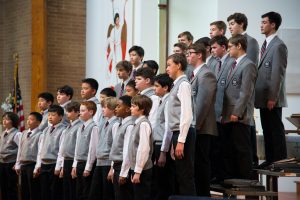 Launched in Fall 2017, Princeton Boychoir has become the premier extracurricular vocal program for boys in the region. PBC is composed of boys from third through twelfth grade, who are placed by audition in one of our three ensembles: Apprentice Choir, Treble Choir, and the Young Men's Ensemble. Singers are placed by ability, matching each boy with the choir that best suits his vocal, artistic, and musicianship level:
Apprentice Choir – a beginning choir of unchanged male voices (generally 3rd through 6th grade)
Treble Choir – an advanced intermediate choir of unchanged male voices (generally 5th through 9th grade)
Young Men's Ensemble – an advanced choir of changed male voices (generally 8th through 12th grade)
The Treble Choir and Young Men's Ensemble often combine to sing SATB literature as well.
Boys are reassessed annually to determine their musical development and choir advancement. See the Redbook for additional information regarding placement and advancement.
In addition to striving for musical excellence, choristers in Princeton Boychoir grow in maturity, self-discipline, focus, and leadership.
Although the Boychoir grew from its sister organization, Princeton Girlchoir, and the two choirs share many traits, there is a unique spirit when "boys' night" starts every Thursday. Led by Fred Meads, each chorister in Princeton Boychoir strives to be an outstanding musician while developing a sense of poise and self-confidence through education and performance, challenging him to tap into the best part of who he is and what he can accomplish.
What will the 2021-2022 season look like?
In weekly choir classes, each choir will be split into two groups that will trade off, spending half of each class in choral training and sectionals, and half in musicianship training, where singers will focus on sight-singing, rhythm training, and music theory in a fun, engaging environment that our choristers LOVE!
The highlight of this season will be the well-rounded and engaging musical education each chorister will receive, tailored to their ability level. The smaller groups within each choir will allow for more individual attention and development for each chorister. We are thrilled to have you to be a part of this excited and innovative music education programming! We also encourage you to check out the full array of musical electives we have available this fall.
Rehearsals will take place at our facility located at 231 Clarksville Road in Princeton Junction, close to shopping, transportation, and various other amenities.